Monday December 24th: We sold out of trees (for a change) on the evening of December 23rd. First time in over 40 years I am not selling trees on December 24th. Sorry if you did not get your tree. There was a shortage this year. Hope to see you all again next Christmas Season.
We have been selling Christmas Trees in Lansdowne on Baltimore Avenue for over 40 years, over 30 of those years from the same supplier.  Christmas Trees for 2018 should be in November 23rd, the day after Thanksgiving.  Early in the season we will have mostly Douglas Fir and Fraser Fir.  We hope to sell Douglas Fir for about the same price that we have in the past $30 to $40 for 6-ft. to 9-ft. trees, and $45 for 10 ft. plus.   We will try to get smaller trees for $20 and $25, but these trees will not be here on the first weekend.  Fraser Fir are a little harder to get this season so the price will probably be from $30 to $45 for 6-ft. to 9-ft. trees
You can find links to the photos below of some of last years customers:
Album 1 – Photos from November 25 through December 13.
Album 2 – Photos from December 14 through December 24.
For more information call my cell at 484-225-0614.
LOCATED IN LANSDOWNE, DELAWARE COUNTY CLOSE TO PHILADELPHIA & UPPER DARBY, YEADON, CLIFTON, SPRINGFIELD, DREXEL HILL, HAVERTOWN, ALDAN, DARBY, & OTHER AREAS OF DELAWARE COUNTY AND PHILLY
Selling trees in Lansdowne for over 40 Years!
We take credit cards for all sales.
Open 10 AM to 10 PM seven days a week.
Back by popular demand, we took photos of our Happy Customers. You can see the photos from this year on facebook, and older photos we have taken since 2011 in the other albums also on our facebook page.
---
Here is a couple of photos of some of the larger trees that we sometimes get about 10 days before Christmas when our farmer is cleaning out his wholesale yard of cut trees.
---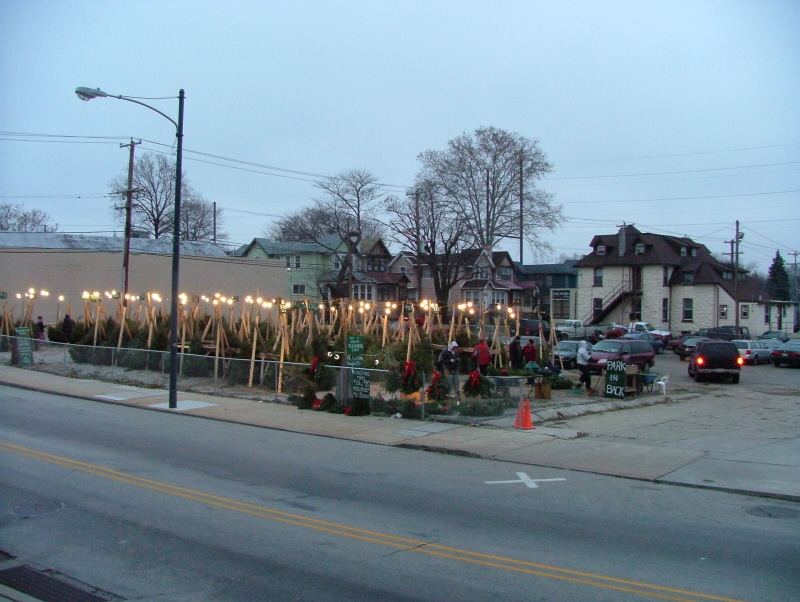 ---
Below are some photos of trees taken on December 1st, 2009. Prices in 2018 are about $5 to $10 higher, the largest trees are $45.
---
We sell over 2,000 fresh cut Pennsylvania Christmas Trees. Beautiful 5-10 foot Pennsylvania Douglas Fir and Fraser Fir are delivered the last weekend in November and priced $20 to $45. We also carry White Pine, Concolor Fir, Blue Spruce, and other varieties when available. We receive additional deliveries about every 5 days, so you will be able to find fresh Christmas trees right up until Christmas. Prices start at $20 for table top trees, and trees are separated into clearly marked sections of $20, $25, $30, $35, $40, and $45
No tree is priced higher than $45!
This makes finding a Christmas tree in any price range easy.
Nearby to Philadelphia, Montgomery County, Delaware County and the Main Line PA
Hours: 10:00 AM to 10:00 PM 7 days a week till Christmas
Location: 58 E. Baltimore Ave. Lansdowne, PA.
Baltimore Avenue at the southwest corner of Wycombe Avenue (across from the Rite-Aid). In the heart of Lansdowne 1 block from the Borough Hall, just over a mile from West Philadelphia; two blocks from the Giant Supermarket. (see map)
---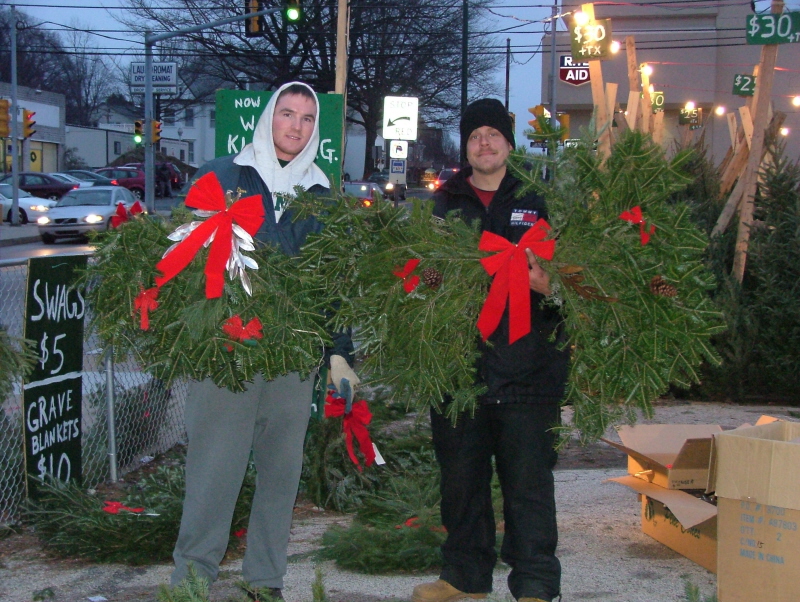 We also have a good selection of Grave Blankets, Tree Swags, and Tree Stands at good prices.
Please check out our other services on this website. Robert J. Kleinberg is an ICPI Certified Concrete Paver Installer and an NCMA Certified Segmental Retaining Wall Installer. He is also an EP Henry Authorized Hardscaping Contractor, and has been designing and constructing patios and gardens in Philadelphia, Montgomery County  Lower Merion, Bala Cynwyd, Ardmore, Narberth), Delaware County (Havertown, Marple, Drexel Hill, Lansdowne, Springfield, Swarthmore, Ridley, Media, Upper Darby, Newtown Square, Radnor), and the Main Line (Bryn Mawr, Villanova, Gladwyne, Wynnewood) PA as a Landscape and Hardscaping contractor since 1986. We offer a full selection of services including Patios, Walks, Steps, Landings, and Walls made of brick, flagstone or interlocking concrete pavers. We also offer Landscape Design and Installation, either Residential or Commercial; new plantings, or renovations of old landscapes.
---
Pictured below are samples of our Christmas Trees
Save