Many types of natural stone are readily available for layered stone walls. Stone Walls can be built with mortar (requires footing), or as a dry wall (more economical). Dry walls are not as durable, but are easily rebuilt. Stone is the oldest and most durable of building materials
All walls shown were constructed by Robert J. Kleinberg Landscape Design and Construction.
---
Tumbled Bluestone Wall without mortar (Dry Stack) – Lansdowne, PA
With the right selection of tumbled bluestone, these stone walls are easiest to build. The stone cost a little more, but you can save time on labor and the walls look great.
---
Bluestone Patio with Tumbled Bluestone Sitting Wall (Knee Wall) with mortar (wet stack) – Media, PA
These wall are using the same kind of stone as above, but are much more labor intensive, and because they are mortared they require a footer under the wall These wall are also capped with thermal bluestone treads
---
Tumbled Flagstone Wall with mortar (Wet Stack)- Boothwyn, PA
---
Layered Stone Wall without mortar – Upper Darby, PA
---
Tumbled Flagstone Walls and Piers with mortar – Merion Station, PA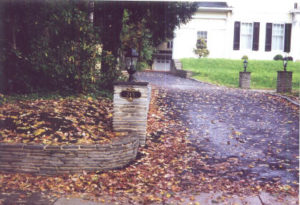 ---
Tumbled Flagstone Wall with Mortar 2 – Merion Station, PA
---
Tumbled Flagstone Wall without mortar – Newtown Square, PA